November Specials (New Specials Coming Soon)
(Please LIKE & SHARE our Facebook Page & Follow us on Instagram @tatonkacreekranch)
*****We are booking up dates fast for Sept – Dec.  It's very important that you make your reservations ASAP if you are wanting to hunt some time over the next several months.*****
LAYAWAY PLANS NOW AVAILABLE

– We are now offering "Layaway Hunts" to our customers.  Hunters can put any amount down for a future hunt and continue to make payments from time to time.  This makes it a lot easier to save up for those hunt trips.  The layaway program is not intended for specific animals we may be listing on our current specials.  For more info or questions about layaway hunts, please call/text 361.533.1068.
 1. Buffalo Meat Hunts – We typically don't have any buffalo meat hunts available at this time of year but we've been given the green light to move several cows.  They are larger than our typical meat animals because we've had a great spring! If you are needing superior meat for the freezer to hold you off till next deer season, this is your deal! Call your friends and book today!

$2195

and this includes lodging! 

2. WIDE Catalina Goats  –  New to the MOST WANTED list are these awesome Catalina Goats! We call these bad hombres "Doc Scurlock" and "Arkansas Dave."  These outlaws have great color, goatees and big wide horns!  Your choice
$895

each.

3. Monster Merinos – Let us introduce you to the Scruggs Brothers, "Buster & Curly." These 2 Outlaw Merino Rams have some serious bone on their heads! Your choice
$1,095

each!
       5.
4.Trophy Paint Ram (Buckshot George) – If you like big spreads, this is the ram you want.  We call this bad hombre "Buckshot George" and he's available now for
$895

.

5. Bargain Paint and Mouflon – Here's 2 new outlaws at an affordable price! First we have "High-Noon Henry" a nice mouflon cross and "Bucky McGraw" a flashy Painted Desert! You can take either of these bad hombres for only $695. Text or call us today!
         
6. Fallow Bucks – Early season special! We have a nice white buck and spotted buck that are on sale for
$2495

each. Prices will go up as we approach winter so take advantage today!
7. Texas Ibex (Manos Arriba) – Here's an insane looking ibex goat thats new on the Most Wanted List! We call this bad hombre "Mano-Arribas" spanish for Hands Up! Great color, goatee and some crazy horns! Available for
$895

!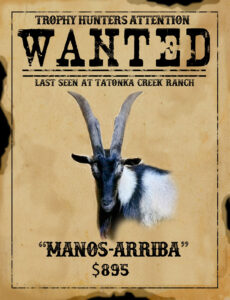 8. Deer Decoys –  We have a few Deer decoys available for sale. Both are does and in really nice shape. Very sturdy plastic and realistic look. Work great to bring in those bucks real close! Priced at $45 and $40 each.